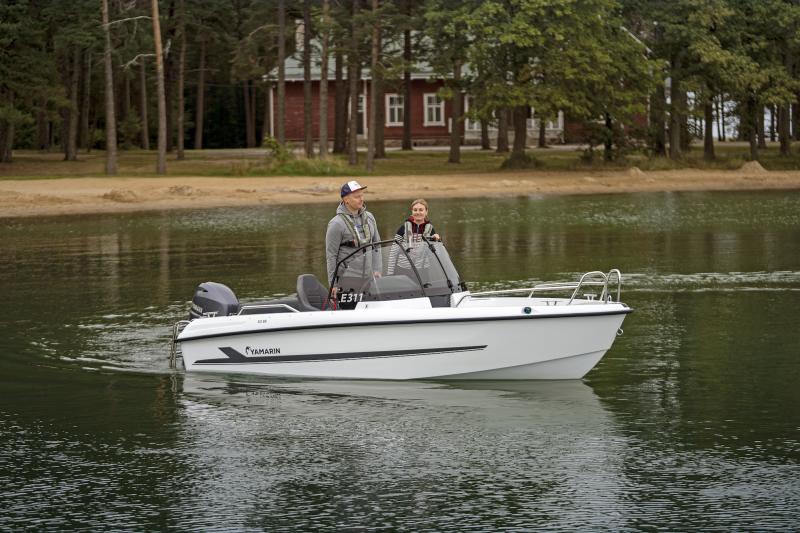 The new Yamarin 50 Bow Rider is truly versatile boat that is just as good for commuting as it is for fishing and cruising. The typically stylish Yamarin design, comfortable wind protection for passengers, excellent handling and convenient storage space makes this new model a true all-rounder for summer cottages.
The sixth model to feature the new Yamarin design language, the 50 BR offers the style and functionality of its larger sister models in a more compact package: it is streamlined, versatile and easy to use.
"The Yamarin 50 BR is a true all-rounder for summer cottages: at less than five metres in length and designed for six people with excellent storage space, it is an excellent commuter boat. It is also ideal for recreational activities, such as fishing, cruising and shopping trips to village ports," says Yamarin Marketing Manager Johan Finnberg.
Brand-new hull design and practical open space
The Yamarin 50 BR features a brand-new hull design. The robust double shell construction offers stability and controllability. Like other Yamarin models, the handling characteristics are excellent: when powered by a 40-horsepower outboard, the stable boat planes easily and can reach a speed of 25 knots with two passengers. When powered by a Yamaha 60-horsepower outboard, this new model can achieve a maximum speed of over 30 knots. At an economical cruising speed of 22 knots, the boat has a range of approximately 120 nautical miles on a single tank.
The open space is practical and safe: the large and uncluttered step surfaces make it is easy to board the boat and move around in the boat. The optional Softdeck non-slip floor surface further enhances safety and looks, as do the stylish and sturdy black railings around the protective windshield.
Abundant storage space and impressive equipment
The Yamarin 50 BR comes standard with a 64-litre fixed fuel tank that eliminates the need for a removable fuel tank, thereby maximising the storage space beneath the rear sofa. Additional storage space can be found under the bow seats.
Standard equipment includes a door in the windscreen, a cushioned rear sofa and offshore seats. Options include an aft canvas, the new Softdeck non-slip floor surface and the 10-inch Yamarin Q smart display.
Technical specifications: length overall: 4,86 m * width: 1,96 m * seating capacity: 6 * weight: approx. 535 kg * engine power range: 40–60 hp