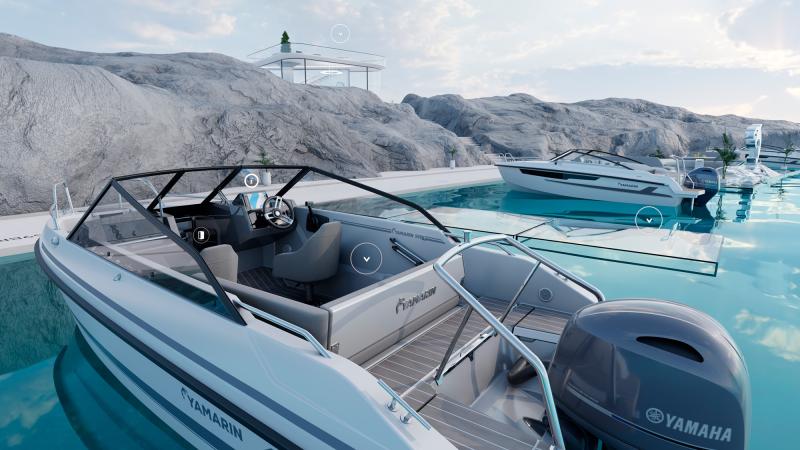 The model range of Yamarin can now be explored in a new virtual environment. Yamarin has launched a digital boat showroom displaying Yamarin models that can be visited anytime, anywhere using a computer, mobile device or even virtual headset.
"We want to offer potential boat buyers the chance to get to know all our boats at their leisure in advance, regardless of time or place. We believe that users will find this service both useful and fun," says Artturi Niittynen, Director of Sales and Marketing at Yamarin.
The boats can be viewed in 360 degrees by rotating in all directions, both inside and out. The Yamarin virtual world presents its entire model range, from the single-console Yamarin 46 SC measuring less than 5 metres to the flagship Yamarin 88 DC day cruiser measuring almost 9 metres. 
The aim of the virtual environments is to enable customers who are planning to purchase a boat to familiarise themselves with the model and its features, as well as experience what it is like to be onboard, operate and live on the boat. The 3D views can also be used by dealers to present the boat models in their showrooms.
"In the virtual world, the boats are already in the water, so they can be viewed as if standing on the pier from the front, side and above, as well as from inside the cabin. Because the boats are in their actual environment, the impression matches reality as closely as possible," says Niittynen.
Customers can move about the virtual piers by clicking with their mouse or tapping on the touchscreen. Hotspots from which boats can be viewed are displayed on the piers as arrow symbols. The i-symbol opens up more detailed information about each boat, and when moving above the boat or into the cabin, the interior of the boat can be viewed from all angles.
"The idea of offering this virtual world started with tools that we use internally to present and research new boat concepts. It was a natural move to extend the interactive presentation format for use also by our dealers and customers," Niittynen explains.
The first version of the Yamarin virtual world is now available. Customers are encouraged to offer feedback about the user experience in order to further develop the virtual features as fast as possible.