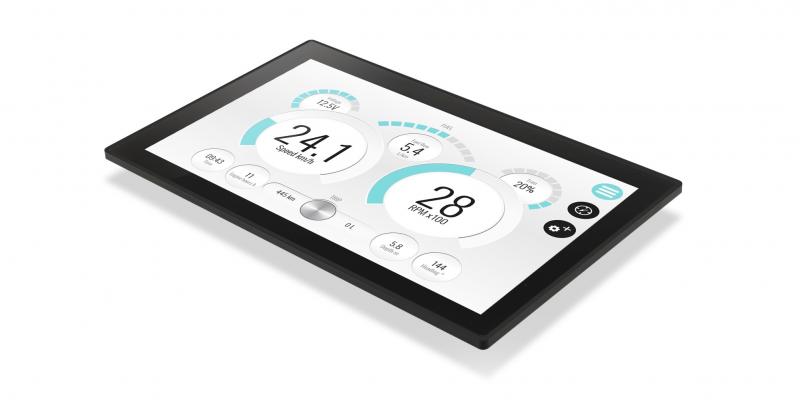 The new Yamarin models, the 88 DC, the 63 BR the 63 DC and the 60 DC are equipped with the advanced Yamarin Q infotainment system. The Yamarin Q's large and easy-to-use touchscreen brings together electronic charts, an on-board computer and an infotainment system as part of a motor boat's basic set-up.

The Yamarin Q is an easy-to-use system that eradicates the need to acquire such separate pieces of equipment as a chart plotter or sonar. Moreover, it will make the helm better-looking and more ergonomic, as it is no longer necessary to have a collection of separate instruments each conveying piecemeal engine data. Drawing inspiration from the automotive industry and smart tablet manufacturers, the Yamarin Q builds upon successful experiences gained on the Buster Q systems already available for years.
"The Q system brings a new level of comfort to boating. With the system, boaters have everything they need readily available in one place, be it the charts, engine data or local weather as well as boating manuals and various instructional videos. There is no need to acquire separate equipment or keep a stack of publications on board. The concept has proven successful on Buster boats, and we now want to offer the same experience also to boaters choosing a new Yamarin," says Anders Kurtén, Director of Product Development for Yamarin and Buster.
The Yamarin Q comes as standard in the new 88 DC, 63 BR, 63 DC and 60 DC models that feature a 16" and 10" version of the touchscreen, respectively. For boaters, this translates into a variety of benefits, such as electronic charts that are considerably larger than normal, an advantage particularly tangible on the sixteen-inch touchscreen version.
Standard features include Internet connection, nautical charts, engine gauges and Wi-Fi hotspot
The Yamarin Q's standard features include an Internet connection, C-Map electronic charts, Yamaha Engine Interface, local weather data and a Wi-Fi hotspot which can be used to share the Yamarin Q's internet connection for other devices.
Music from appropriate data sources can be played wirelessly through the system's applications. An easy-to-use FM and DAB radio is available. With the advanced wireless functions, the Yamarin Q is also economical in terms of power consumption, allowing you to enjoy music all day while out on the water.
Optional features available include Fishfinder, radar and remote control
The Yamarin Q smart display can be supplemented with various optional accessories such as a sonar, Fishfinder, remote control, AIS, high-quality sound system and radar. Being compatible with the NMEA 2000 communications standard, the Yamarin Q communicates flawlessly with marine electronics from other manufacturers.
The Yamarin Q Fishfinder provides imagery of the bottom structure and the fish down to a depth of 270 metres. Its exceptional image quality is enabled by CHIRP technology that transmits across a wide spectrum of sonar frequencies with each pulse, compared with conventional imaging sonars transmitting just a single frequency per pulse.
The mechanical remote controller, available as an optional accessory, can be docked to the steering wheel or surface-mounted next to a Yamaha outboard's remote control device, for example. The remote controller has six buttons, and their functions change according to the function selected on the Yamarin Q smart display. The remote control can be used for toggling between different display functions and for controlling the navigator and the sound system as well as the trolling speed of Yamaha outboards.
Yamarin Q specifications
Smart display: On-board computer – Infotainment system with a 10" or 16" touchscreen
Language support: English, Finnish, Swedish, Norwegian
Extremely bright WXGA display
1 GHz quad-core processor
NMEA 2000 compatible
Yamaha Engine Interface compatible
Built-in C-Map charts; one chart region included in the price
Online weather data
FM and DAB radio, sound system available as an optional accessory
Wi-Fi, Bluetooth and 3.5G connections; the price includes a two-year pan-European data plan
Boat and engine operating manuals and instructional videos (landing, boat trimming, safety, knots)
Automatic online updates
Equipped for AIS, sonar, Fishfinder, remote control and radar